Joint Mercia ACCA Practitioners' Conference Series 3
To assist practitioners all over Ireland to update their skills, we are delighted to offer our Regional Practitioners Conferences. The conference will provide an essential update for the practitioner in audit, accounting, tax and practice management.
Topics are as follows:
Insolvency & Restructuring:
Restructuring for Companies under pressure (Speaker – Tom Murray, Friel Stafford)
Currently, many companies are treading water and many directors are in the ostrich zone
In this session, Tom will discuss
Taking action early
Assessing the financial picture
Considering company and personal security (charges, personal guarantees etc.),
If the company is viable, looking at restructuring options
Refinancing the balance sheet
Considering Schemes of Arrangement and examinership
Audit & Accounting:
Current Issues with Owner Management Companies (Speaker – Will Townsend, Cooney Carey)
What is an Owners Management Company (Residential / Mixed Use Development)?
Multi-Unit Development Act, 2011 – what companies does it apply to?
Accounting & Auditing issues that may arise
Revenue recognition
Taxation matters
Service charge debtor's collection and inclusion of impairment provision or not
Revenue recognition – service charges, sinking fund, levies
Use of a service organisation – property manager (PSRA)
Related party transactions – common examples (directors, developers, property managers)
Fixed assets – capitalisation or expense
Going concern – potential cash flow issues need to be reviewed
MUD Act 2011 – needs to be considered
Application of audit exemption abridged financial statements and FRS 102 1A
Directors Report v's MUD Annual Report requirements
Current topical issues
Taxation:
Solutions to Complex but Common Tax Questions (Speaker – Derek Andrews, Andrews Tax Consulting and Coventure)
This course will highlight clever tax strategies and introduce accountants to advances in technology and tax software that can be used to put solutions at their fingertips to common tax problems, helping the accountant to slash costs, reduce time, and add huge value to their clients and to their bottom line.
The topics covered will include:
Car ownership - is it more tax efficient to own it through a company or privately?
Property ownership – is it more tax efficient to own it through a company or hold it privately?
Cash extraction for personal gain in an anti-avoidance climate.
Common mistakes when dealing with shares.
Identifying the correct valuation date and filing deadline with wills.
Transfer of a family home and accessing exemption from inheritance tax when conditions are not met.
Obscure VAT on property traps including legacy waivers and surrenders.
Accessing CGT participation exemption to avoid CGT when 12-month condition is not met.
Identifying offshore funds-related disclosures quickly when filing tax returns.
How to find useful tools for tracking annual movement and the big swing in capital goods records.
Employment-related payments that you didn't know qualify for relief similar to termination relief.
Practice Management:
Managing Data Protection and Cyber Security Risks – The GDPR Two Years On (Gerry Egan, Gerry Egan Consulting)
This session will:
Remind participants about the key principles of data protection and the responsibilities of data controllers and data processors under GDPR;
identify emerging trends and issues for organisations to watch out for;
identify current data security risks and practical measures to mitigate these risks; and
provide an update on current enforcement activities and what we can all learn from them.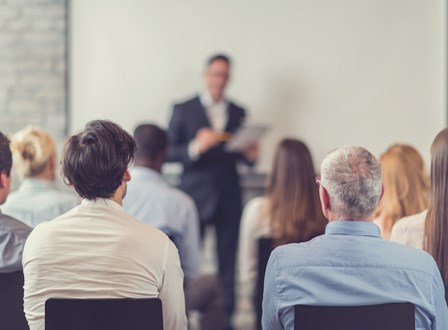 Purchase credits and save
Our training courses credits could provide a more flexible payment option. Call 0116 258 1200 to find out more or visit our credits page. Credits do not apply to courses in the Republic of Ireland.